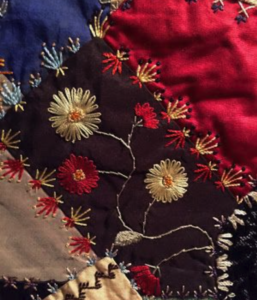 My husband Peter looked lovingly across the table. "Honey," he said, "you can't save the world."
"But I want to!" I said.
I'd been reading the paper and could feel the mounting tension that each day's news always brings. There is so much work to be done. I want to do more and I often muse about how The Sewing Machine Project could be in more places at one time. On this particular day, I was telling Peter how much I'd like to gather a few volunteers and head south to mend things for people detained on the border. He smiled.
There is SO much to be done, so much mending that's needed…everywhere.
The Sewing Machine Project began because I saw one small way I could help. I could gather some sewing machines and send them to people who needed them. 15 years later, we have a solid team sending machines to groups helping people all over the world. Each group that applies for machines mends a small community. But it doesn't stop there. The people who actually receive the machines are encouraged to Pay it Forward. When they, in turn, help someone else with their machine, they add their own thread to the mix, making the fabric of the work we do that much more vibrant. Together, we create a crazy quilt of threads and patches, textures and colors–a quilt of love that stemmed from a simple idea.
And the truth is, we are one small organization. We are limited by our small size and limited resources. But by casting our threads to everyone out there, a loving network appears. We need every single one of you, whether donating time or money or ideas. Together, just maybe, we can mend a bit of the world.
Peter reached across the table and took my hands. His calm calms me. There is so much to be done. And it's hard sometimes, to imagine that one person's effort can make any sort of a difference in the face of such need. But it does. This old world and the people in it need all the healing we can muster. So make that call. Take that step. Explore that idea. Have that overdue conversation. Make or accept that apology. It's ok if it feels tiny. It's not. The efforts of each and every one of us shift the world by degrees. Together we can mend the world.