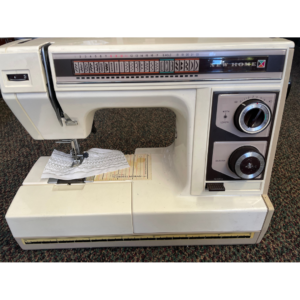 I, like many sewers, have a few machines in my "stable". It was time to clean house.
My mom's Featherweight…nope, can't get rid of that one.
My day-to-day machine…always in use. That one stays put.
Back in the corner of the closet is a familiar case—a faded plastic cover over a machine I remember well. I step in and pull the machine to the front. Lifting the cover, I can't help but smile. Here is my New Home machine—the first machine I'd ever purchased for myself.
I bought it when I was first married and pregnant with our son. I remember sitting down at the machine for the first time and how intuitive I found it to be. When Alec was a little more than a year old, I was looking for a winter coat to keep him cozy in the Wisconsin winters. Not finding anything quite right, I decided to create a little coat for him. A layer of tight navy blue wool, an interior layer of soft plaid flannel, with a little insulation in between. The style was classic—a duffle coat with a hood.
Wandering Milwaukee with our little boy, people would stop me and ask where I'd gotten the coat. An idea flickering, I stopped by a children's boutique on Milwaukee's east side and asked if they'd be interested in carrying a few of the coats and they heartily said yes. So I began producing coats, calling my venture Days of Wonder. One of my favorite stories was that a friend of Robin Williams' stopped by the boutique to buy a baby gift when his daughter Zelda was born. She chose one of the coats I'd made.
When we moved to Memphis the machine moved with us and I sewed for a children's boutique in Germantown, a Memphis suburb.
I run my hands over the machine, thanking it for the memories evoked. I tidy it up and drop it off at a local sewing machine shop so they can tune it up before I donate it to The Sewing Machine Project and open the door for the machine's next chapter.
When I began The Sewing Machine Project 18 years ago, I mistakenly thought that it was simply about getting sewing machines into the hands of those who needed them. And that is certainly true. But it is so very much about the stories that accompany the machines, the stories of the people who receive them, and the stories of all of those who press their goodwill and kindness into this idea.
Thank you, old machine, for your reliability and ease. Thank you for the lives you have yet to impact–the stories you have yet to write.