The Sewing Machine Project has a unique Business Model. By that I mean, we carve our own path with an ear to the pulse of what is going on around us. We are a tapestry of common threads, with a vibrant palate of fibers and colors- some expected and many surprising. When I imagine this tapestry, I see the end of a thread, take it in hand, and connect it with another.
Last year, a woman named Peg reached out, looking to help in some way. She'd made donations in the past, but was looking for a more tangible way to help. I mean, aren't we all searching to make a difference in ways that resonate with how we walk in the world? So Peg and I explored the possibilities and what resonated most was that she would purchase high quality supplies and assemble the sewing kits we offer along with machines in our local classes. Peg listened as I repeated my mantra of offering good solid tools to help ensure students' success. Over the past year, Peg and I have refined that list, discussed sourcing, and come up with a sweet compact set of sewing tools in these kits.
Fast forward to December 2022 and I received an email from Pete, a man with whom I'd never connected, asking how he could help and would we like him to send us some sewing kits? He included links to some kits he'd found online in the hope that I would identify one that would work well for us and he could order some as a donation. I read and reread his email, letting gratitude fill me as I felt his desire to connect and to make a positive difference in the SMP.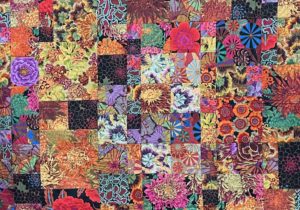 Rather than choosing a kit, I reached out to Peg–held her thread in one hand–and asked her if it was ok if I connected her with Pete, as I held his thread in my other hand. A week later, Peg and Pete were corresponding and a new section of the tapestry began to take shape and light up. Peg connected with Karen who coordinates our local classes and established how many kits would be needed in 2023. Peg then connected with Pete and suggested that he purchase good quality shears for the kits. Yesterday, the message arrived from Pete saying the shears are on their way.
The tapestry continues to grow in unanticipated ways that surprise and delight. And to be honest, I think this is the Business Model of the Sewing Machine Project. We are a tapestry–an organization of connections, doing our best to listen to what is needed and to honestly and genuinely answer that need. We are ever vigilant for the threads all around, connecting those threads into a vibrant patchwork of color and light and hope.