In our home town of Madison, Wisconsin we have some great programs going:
Beginning and Intermediate Sewing and Mending classes
We offer classes at local community centers. The curriculum focuses on basic sewing and mending and becoming acquainted with the sewing machine–how to operate and maintain it. Each course runs six weeks. Students are required to attend all 6 sessions in a course and "Pay it Forward" by completing a project to be donated to the Center where the class is held. After meeting these requirements students are "gifted" the machine on which they learned along with a small starter sewing kit. Our talented instructor, Rebecca Sites encourages students to take risks and push boundaries within each lesson. Our beloved volunteers float in the classroom, offering support as needed. The depth of community created when people come together to sew and learn from one another is astounding.
Mending
The mending…we hope it's never-ending!
Modeled after Michael Swaine's work, doing street mending in San Francisco, we have created a program here to help maintain the clothing people have.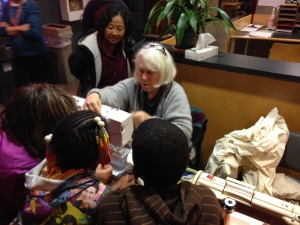 Goodman Community Center
The Sewing Machine Project offers free mending services at the Goodman Community Center on Madison's East Side. On the first, third and fifth (if there is one!) Wednesdays of each month two sewers set up a little table in the Goodman Center lobby during Food Pantry hours (6-8pm). People are welcome to bring their mending and we'll do as much as we can get done in those 2 hours. So far we've sewn on buttons, hemmed pants, repaired tears, even tried to repair a ping pong net (for the Center).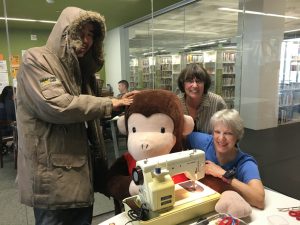 Madison Central Library
The Sewing Machine Project is at the Central Library on the first, third and fifth Thursday each month from 10am-noon. Beginning in November, we will be there every Thursday. Volunteers, along with a sewing  partner, use provided sewing machines & supplies to repair items for drop-in customers on the spot. NO SPECIAL SEWING SKILLS NEEDED!
Volunteer sign up.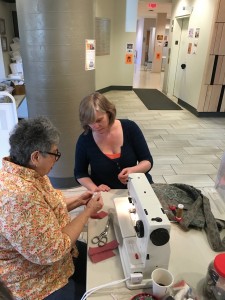 Monona Public Library
The Monona Library offers mending services on the third Sunday of every month from 2-4PM. There is a free mending lesson during the first half hour!