In 2005, when Hurricane Katrina struck, our work began in the Gulf. Since that time we have delivered over 1200 sewing machines to the New Orleans area beginning with individuals displaced by the storm and broadening to serve schools and community centers. Early on we began working with the Mardi Gras Indians of New Orleans, delivering machines for them to use to create their extraordinary suits. In 2015, Singer delivered 50 sewing machines to the New Orleans Recreation Department for local classes! What a gift!
Groups in several states are now using SMP machines to serve groups of individuals whose lives can be improved through sewing. No two applications are the same. Need is everywhere and has many faces. We are happy to provide a sustainable way to maintain what one has, to support one's family, perhaps to start a small business, and to engage the creative spirit.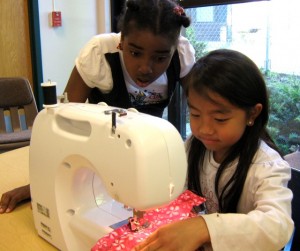 If your group would like to apply for sewing machines…
We ask that applicant organizations have a group in mind to serve, an instructor, a well thought out curriculum and a place to teach.
To learn more, please contact Margaret at margaret@thesewingmachineproject.org.