History
In 2005, following the Southeast Asian tsunami, a little light started to flicker, halfway around the world in Monona, Wisconsin. Inspired by an article she read about a woman who had lost her sewing machine in the storm, Margaret Jankowski began collecting sewing machines to send to those whose lives could be mended by this creative tool.
From Southeast Asia, to hurricane-ravaged New Orleans, back to Madison, WI, that tiny flicker has grown bright, offering sewing tools and education to those in need and changing lives along the way.
Since our beginning, more than 4000 sewing machines have made their way to many corners of the world and of the United States. Currently working mainly within the United States and locally in Madison, WI, the Sewing Machine Project is going strong. Each machine recipient Pays it Forward, sending the ripples out farther than any of us can imagine and carrying the messages of kindness and compassion along the way.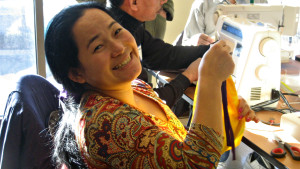 We offer local classes to groups targeted by local community centers. We offer free mending at Madison's Central and Hawthorne libraries. We send machines to groups working with people who otherwise wouldn't have access to sewing. People sew for their families, they mend rather than buy something new, people start small sewing businesses. Students sew together and build community.
Please browse our site, and consider making a financial donation. We invite you to join the Sewing Machine Project® community.