We accept sewing machine donations.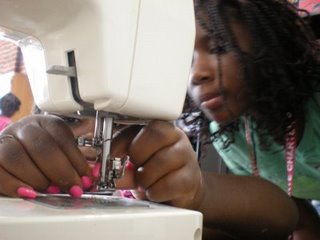 The Sewing Machine Project was founded on the idea that we could take a machine that someone no longer needs and share it with someone who does. We are grateful for the machines we receive.
We ask that every donated machine is in excellent working order.
In recent months we have realized that we have received an unusually large number of machines that do not work, do not perform all of their original functions, or are missing important accessories that are difficult or costly to replace. Unfortunately, until or unless we have a professional technician who can triage and repair machines for us, we have no real way to repair or augment these not-quite-usable machines ourselves. We do not send out partially working machines! Should you have a machine that isn't quite perfect and you'd really like to donate it to The Sewing Machine Project, please have it repaired or tuned up before making the donation. If this is not within your budget, please find another outlet for your donation. Our (limited) resources thank you!
We are not accepting serger donations at this time.

Donated machines must:
1. be in excellent working order (all stitches and functions work well);
2. include basic original accessories for operation;
3. be portable (not in a cabinet);
4. include the original instruction manual (if you have it). If you don't, it would be great if you could download and print the manual and include it with the machine.
We are no longer accepting Singer Touch and Sew machines. The Touch and Sews, though miraculous in their day, do not age well and we cannot confidently pass them along. 
Does your machine weigh over 30 pounds? We realize that there are many very good working machines out there that weigh quite a bit. Unfortunately, the price of shipping these machines is prohibitive ($45-$75 per machine, depending on the destination). If you are interested in donating your heavy machine in excellent working order, it would be most helpful if you could also supply the (tax deductible) additional cost of shipping this machine to its new home.
When you donate any machine, please consider making a financial donation as well. A $40 donation, accompanying a machine would pay for its packing materials and transport.
You may drop off your working sewing machine at any of the following locations:
---
---
If you live outside of these areas and wish to ship your working sewing machine, please package it carefully (double boxing with plenty of padding) and send it to:
The Sewing Machine Project
112 Owen Road Box 6245
Monona, WI 53716
Thank you so much!!
Thank you so much for your kind donations!