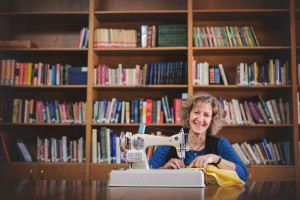 Margaret John Jankowski (Founder/Director)
Margaret John Jankowski founded The Sewing Machine Project in March 2005.  Margaret has been sewing every since she was young and has applied that skill throughout her life from forming a children's clothing company, Days of Wonder, in the early '90's in Milwaukee, WI, to freelancing for Pleasant Company and for Bernina of America. Margaret worked for Hans' Sewing in Madison for four years, in education and sales. Currently, Margaret works full time running The Sewing Machine Project and freelances for American Girl in Product Development. The Sewing Machine Project is a beautiful combination of creativity and community service and Margaret is honored to have this opportunity to serve with love.

Meet Our Board of Directors:
Executive Board
Trish Pulvermacher(Board President)-Trish is the owner of Patricia Lynne, Sewist, doing custom sewing and alterations for almost 40 years and is also a sewing educator, teaching both privately and for Madison College. She believes that positive change begins at home and is excited to be working on our local initiatives, bringing sewing knowledge and sewing machines to women in need. Sewing, grandchildren and life keep her busy!
Carolyn Benforado (Secretary)-Carolyn is embedded in the Madison sewing community. She develops and teaches kids' sewing classes, freelances at American Girl in Product Development and creates custom designs.
Kim Miller-Kim is a retired school psychologist and an active member of the community. Kim works with Chris on the storytelling piece of the Sewing Machine Project. Though Kim warned us all the "she doesn't sew!" we are piquing her interest and I think we'll get her sewing yet!
Linda Sweeney (Treasurer)-With a background in education and administration, Linda brings a strong organizational and clearheaded approach to the SMP board. Her infectious laugh and amazing ability to analyze and interpret any situation are huge gifts to us.
Chris Thomas-Chris is an accomplished fiber artist, active in her community. Chris and Kim work together on the important storytelling piece of the Sewing Machine Project, collecting and sharing stories of machine recipient groups.
Advisory Board
Lois Bergerson– Lois is the founder and lead creative of Lois B Designs, based in Madison, Wisconsin. Lois' uncommon perceptiveness, intuitive creativity, skilled execution and strategic business acuity lend so much to both her business and to our Board.
Carroll Heideman – Carroll  has been an amazing sounding board, especially in the editing department as we picked through the intricacies of the 501c3 application and the Incorporation papers.
Steffani Lincecum-Steffani has been around sewing for quite awhile. She has designed and sewn for movies and tv in Los Angeles and most recently wrote Patternmaking For a Perfect Fit. Having been to school in New Orleans (Tulane), Steff is excited to work on our Gulf projects.
Peter McKeever- Peter McKeever is an attorney in Monona, Wisconsin. During his 39-year career he has been the founder, executive director, employee and board member of numerous non-profit corporations and organizations in both the human services and environmental arenas.
Robert Miller – Bob is a media man. From his work as Chief Operating Officer of Discover Mediaworks to serving as Vice President and general manager of WKOW-TV, the ABC affiliate in Madison, Wisconsin for nearly a decade, Bob knows the media inside and out. Bob now works as Development Director for Madison's Overture Center. Bob is a strong community advocate and has supported The Sewing Machine Project since its inception.
Andrea Plassman-Andrea is the founder of Curvaceous Custom Bras and Lingerie and not only designs and creates these delicate, wonderful pieces but also teaches others how to make them! Andrea's past experience includes positions as Executive Director of the Madison Boychoir and Development Director for the Madison Symphony Orchestra. Andrea holds a Masters' Degree in Arts Administration. Her energy and zest are such an asset to the SMP!
Bird Ross-Bird is an accomplished artist with many local and national accolades under her belt. A community organizer, Bird was excited to join our board and put sewing and community service together for The Sewing Machine Project.
Michelle Rutta – Michelle is Owner of Your Hearts Content, a wholesale gift business specializing in gift and home decorating items, based in Cottage Grove, WI. She oversees the designing of over 300 individual items each year, has them produced overseas, and distributes them to over 2000 retail stores across the world. Michelle's quiet business wisdom has helped The Sewing Machine Project so very much.
Jacqui Sakowski – Jacqui is the President of Sakowski Consulting and the founder of Selling Extranet Groups. A committed volunteer herself, Jacqui's company commits 10% of all work hours to community service. Jacqui is a coach, trainer and consultant, empowering sales professionals to reach new levels of accomplishment and job satisfaction. Jacqui brings powerful business networking and heart to the Sewing Machine Project.
Mary Lang Sollinger – Mary is currently the Finance Director for the Democratic Party of Wisconsin. Mary's community service accomplishments are many. Mary worked hard as a fundraiser for the Obama campaign and has run several successful fundraising campaigns locally–benefitting Monona Terrace, the Goodman Center, the Tenney Park Shelter and many other Madison-area organizations. Mary's pulse can be felt in Madison's State Street neighborhood, where she started two retail stores as well as heading up various campaigns making State Street a better place to live and work. Mary's creativity and business savvy have helped push The Sewing Machine Project to new levels.
Sandy Wright-Sandy served for many years on our board. A lifelong garment sewer, Sandy has been active in so many levels of the Madison community. She held the office of Secretary on the SMP board and was instrumental in refining our processes and systems.
In memoriam:
Bob Heideman (Advisory board member) – Bob was a retired executive and educator who took an interest in The Sewing Machine Project from the outset. He was such a generous donor financially but even more than that he showed an unwavering belief in this project and broadened the Sewing Machine Project network. Bob was truly an inspiration.
Katie Stout– Katie Schultz Stout spent 40 years as an educator in the classroom and served with the State Department of Public Instruction and the Wisconsin Education Association Council.  Much of that time was spent furthering the professional development and licensure of teachers. In addition she has taught sewing to adults and adolescents for 7 years. Katie was a charter member of the Sewing Machine Project Board and served as its first President.
Nancy Zieman-Nancy was an author, pattern designer, business woman, home economist and national sewing authority. Nancy was host and producer of Sewing With Nancy shown on public television stations across the United States and Canada-the longest running sewing series on television. Nancy wrote numerous books, designed patterns for McCalls, and was a dedicated art quilter. She founded Nancy's Notions, and was the spokesperson for Nancy's Notions and Babylock sewing machines. Nancy believed in the Sewing Machine Project from the start and was an endless voice of encouragement for the work we do.