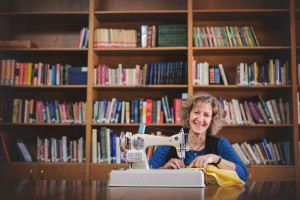 Margaret John Jankowski (Founder/Director)
Margaret John Jankowski founded The Sewing Machine Project in March 2005.  Margaret has been sewing every since she was young and has applied that skill throughout her life from forming a children's clothing company, Days of Wonder, in the early '90's in Milwaukee, WI, to freelancing for Pleasant Company and for Bernina of America. Margaret worked for Hans' Sewing in Madison for four years, in education and sales. Currently, Margaret works full time running The Sewing Machine Project and freelances for American Girl in Product Development. The Sewing Machine Project is a beautiful combination of creativity and community service and Margaret is honored to have this opportunity to serve with love.

Meet Our Board of Directors:
Executive Board/Working Board
Trish Pulvermacher(Board President)-Trish is the owner of Patricia Lynne, Sewist, doing custom sewing and alterations for almost 40 years and is also a sewing educator, teaching both privately and for Madison College. She believes that positive change begins at home and is excited to be working on our local initiatives, bringing sewing knowledge and sewing machines to women in need. Sewing, grandchildren and life keep her busy!
Carolyn Benforado (Secretary)-Carolyn is embedded in the Madison sewing community. She develops and teaches kids' sewing classes, freelances at American Girl in Product Development and creates custom designs.
Kim Miller-Kim is a retired school psychologist and an active member of the community. Kim works with Chris on the storytelling piece of the Sewing Machine Project. Though Kim warned us all the "she doesn't sew!" we are piquing her interest and I think we'll get her sewing yet!
Linda Sweeney (Treasurer)-With a background in education and administration, Linda brings a strong organizational and clearheaded approach to the SMP board. Her infectious laugh and amazing ability to analyze and interpret any situation are huge gifts to us.
Chris Thomas-Chris is an accomplished fiber artist, active in her community. Chris and Kim work together on the important storytelling piece of the Sewing Machine Project, collecting and sharing stories of machine recipient groups.
In memoriam:
Bob Heideman (Charter board member) – Bob was a retired executive and educator who took an interest in The Sewing Machine Project from the outset. He was such a generous donor financially but even more than that he showed an unwavering belief in this project and broadened the Sewing Machine Project network. Bob was truly an inspiration.
Katie Stout– Katie Schultz Stout spent 40 years as an educator in the classroom and served with the State Department of Public Instruction and the Wisconsin Education Association Council.  Much of that time was spent furthering the professional development and licensure of teachers. In addition she has taught sewing to adults and adolescents for 7 years. Katie was a charter member of the Sewing Machine Project Board and served as its first President.
Nancy Zieman-Nancy was an author, pattern designer, business woman, home economist and national sewing authority. Nancy was host and producer of Sewing With Nancy shown on public television stations across the United States and Canada-the longest running sewing series on television. Nancy wrote numerous books, designed patterns for McCalls, and was a dedicated art quilter. She founded Nancy's Notions, and was the spokesperson for Nancy's Notions and Babylock sewing machines. Nancy believed in the Sewing Machine Project from the start and was an endless voice of encouragement for the work we do.