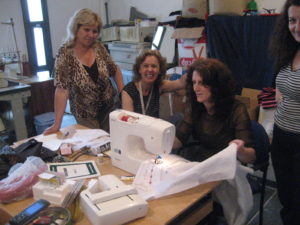 The trip was a surprise, a gift, really. Setting out for Kosovo with my neighbor, Al, his friend, Gani and a new friend, John, I pinched myself several times asking "is this for real?" It was. Al and Gani had appeared on my back porch one evening in 2008, the fading light of summer illuminating Al's somewhat familiar face and Gani's new face. Al was my neighbor and known in the community as a man who was curious and generous. I invited them in.
Gani is from Kosovo and as we sat in my living room that evening he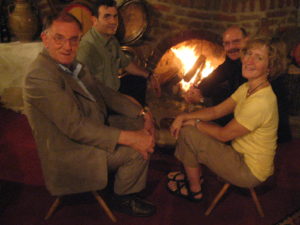 shared the trials of the war, the plight of women—hundreds of women from his small community alone—who were left widowed and were searching for work and meaning after the war had destroyed life as they knew it. He told me about Antigona, an NGO based in Skenderaj, his home village. Antigona was a women's clothing collective, offering design, tailoring and sewing services. The women of Antigona were hoping to expand their business to teach more women to sew, offering new hope, post war. He asked if we could send some sewing machines.
Insights and ideas grew and blossomed over the next few months as we developed a plan to send some machines in a container that was scheduled to leave in early 2009. Al and Gani were planning a trip in the spring of 2009 not only to check on the container's arrival but also to work on some farming initiatives, developed with UW Wisconsin and USAID. They had invited John Kappelman, a successful Wisconsin farmer, along to work on that plan.
I'm not quite sure where the boldness came from but my voice rose up and asked, "may I go too?" Without hesitation, Al agreed. Plans were set, passports were checked, and in June 2009 we were on our way. I had no idea what to expect, did not really know any of my co-travelers well, had no sense of the Albanian language and couldn't help wondering, what does a post war country look like?
We arrived in the afternoon, dropped our suitcases off at a hotel in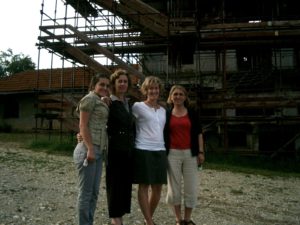 Pristina and headed for Skenderaj. My face pressed against the window throughout the bumpy ride to Gani's village, I drank in the scenery. The hills and fields, the villages with people living their lives, horses and cows, thin and weathered, and finally the village of Skenderaj opening before us. We pulled into town and people poured off of a little terrace on the town square, Gani's friends, waiting for our arrival. Raba took my arm and Flora the other and we walked through town as old friends. "My daughter will be here soon," Raba said, "she can translate for you during your stay." I smiled and sunk into the sisterhood that physically held me in this most unfamiliar place.
The next day I met Fjolle. Raba's 16 year old daughter was on a school break and didn't seem to mind having her time taken by a wandering woman from the US. We visited the sewing room and Fjolle bridged the language divide with patience and grace. We went to meals together, we took walks and I learned about the village and the country, the war that had taken so many. We became friends.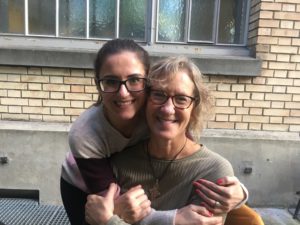 And we have remained friends.
Fjolle is now married and living in Zurich. And coincidentally, my husband lives in Switzerland as well. Yesterday, I explored the public transportation that would take me to Fjolle's apartment. Her husband graciously met me outside to usher me upstairs and Fjolle opened the door to their apartment, new baby in her arms, beaming. She has always been lovely but is especially lovely in the new glow of motherhood. Now the lady of the house, she had cake and coffee ready and we got all caught up while I had the chance to cuddle their brand new baby boy.
We always say that The Sewing Machine Project is as much about connection as it is about the machines. And that is so true. It is about the bonds and trust that come when we sew together. It is about reaching beyond ourselves in understanding. It is about the common threads that connect us all when we allow ourselves to get close to one another.
Reaching, touching, loving, healing let us work to strengthen these important threads and celebrate the new ones as they appear.