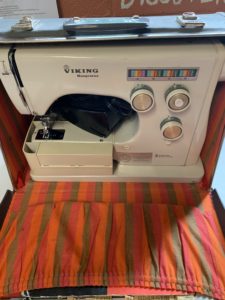 Tic tic tic, the needle moves up and down powerfully and effortlessly. The stitch is perfect–even and balanced–the upper and lower threads grabbing hold of one another, hands held in a tiny dot on the fabric's surface.
I am alone in our workroom. An old Sunday School classroom, concrete block walls painted terra cotta, stenciled words of hope and love scattered as if splashed from student's hearts. The windows were new last summer. The one I've cracked open lets in a cool damp breeze signaling rain on its way. Voices and cars punctuate the moving branches. I feel at home.
The old Viking before me is surprisingly nimble. A Swedish gem, it is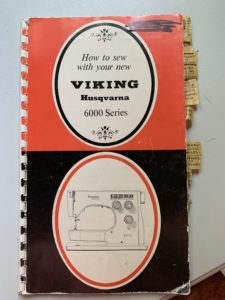 heavy and precise. These older ones sometimes arrive seized up but not this beauty. She clicks and whirs reassuringly, each stitch proving her worth.
When it's time to test the buttonhole, my momentum slows. I am not familiar enough to know the proper settings, how to arrange the dials to unlock the code to stitch the buttonhole's legs, its bar tack top and bottom. I search for a manual and there, in the orange striped pocket in this Viking's suitcase, I find it. Tiny tabs like fringe feather from its pages with notes, guides made and used by the original owner to find help quickly. Opening to the page marked "buttonholes" I find more notes. Lovely cursive, in pencil, further tweaks to the stitch.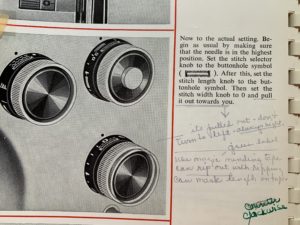 And I pause, my hands resting on the machine as if on the shoulders of the one who used it before. She who oiled it, loved it, lifted her creations to inspect, made notes as she worked. She who eventually let it go. "Well," I whisper, "you are well loved.
Sewing machines carry our stories, our history, tales of events and people and the garments they wore. Letting go of a sewing machine is giving away a book we've read again and again…
…but then the story continues. The machine becomes a part of another life, another story. This Viking will travel to Mississippi where women in prison will make reusable sanitary napkin kits to give away. These kits will empower girls typically ostracized during their cycle. No more. The gift of these kits will allow them to attend school without pause.
And the women serving time will be reminded that they have something to give. That everyone has something to give. Hands join around a tool, through time and cultures. Godspeed little sewing machine.