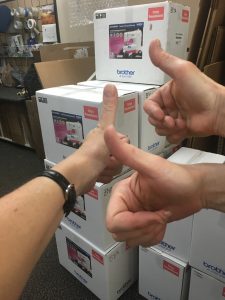 When I look at the list of all that was done in 2018 I am awestruck.
We:
connected with 38 new groups, delivering over 300 sewing machines;
received an amazing donation from Brother, International;
shipped machines to Puerto Rico to help with hurricane recovery;
established a new mending site here in Madison,
doubled the number of local classes we offered;
participated in 3 trade shows, sharing the story of The Sewing Machine Project;
…and I've even begun writing a book about The Sewing Machine Project.
and without you we couldn't have done this. YOU. You, beloved friends, donors, supporters, YOU make the difference.
Thank you. Happy New Year. May this year bring new blessings, new surprises that help you see in new ways and connect with each other on ever deeper levels. Onward!
~Margaret