by Chris Thomas, SMP board member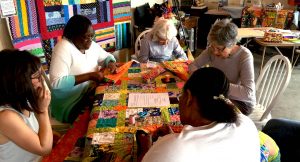 Think of the old-time quilting bee and you'll have an idea of what goes on at the Bib and Tucker Sew-Op. Women's fingers are busy cutting and stitching while their chatter fills the room. Stories are swapped. Friendships are cemented.
But we need to back up: Lillis Taylor had lived and worked at a variety of jobs in different parts of the world, but had landed back in her native Birmingham, AL. Sensing she needed a focus, her artist father asked her what she most wanted to do in life. Lillis answered that she wanted to put his art onto fabric and clothing to share with the world. Soon after, she saw the quilts of Gees Bend and she was inspired to quilt. Finally it dawned on her that she would need to learn to sew!
Lillis joined the Birmingham Quilt Guild. There she met Miss Annie Bryant, a woman twice her age and from a different part of the city. Despite their differences, they immediately became fast friends and sewing buddies. The two decided to meet every Tuesday at a local library with sewing machines in Annie's part of town, and together they learned to sew.
Soon other women from the neighborhood began to join them. Members of the Birmingham Quilt Guild donated sewing supplies and the Tuesday morning quilters began making quilts to donate to local charities. As their numbers grew the Tuesday quilters moved to larger quarters. Lillis and Miss Annie began to dream about the possibilities that were opening. Wouldn't it be great if the women could display their art in a quilt show? Perhaps they could become a co-op and cultivate the skills needed to do piecework sewing for a profit. And maybe one day the women raising kids could work from their homes for local companies that need sewers. But first they needed a name. After much discussion, the group decided to call itself the Bib and Tucker Sew-Op.
The group was open to anyone who wanted to learn to sew and quilt. Any age. Any ethnicity. Any political persuasion. Any religion. Whether you knew how to sew or not. The Sewing Machine Project donated 4 sewing machines. Word got out and fabric began pouring in. Skills and friendships blossomed. Members of the Sew-Op were thrilled to enter their first quilt show. One woman began a small business to help support her four children. This year The Sewing Machine Project donated eight machines for Sew-Op members to use in their homes to do contract sewing to supplement their income while raising their children.
Three years ago Miss Annie and Lillis decided the time was right to go beyond their usual service projects. They began to engage the entire Birmingham community in making a quilt to commemorate the 50th anniversary of the Selma to Montgomery civil rights marches. Members of Bib and Tucker met with people in libraries, art museums and community centers and encouraged them to take up needle and thread and hand-sew squares to be sewn into a large "March Quilt" to be displayed in the three cities. Participation was so great that they ended up with enough quilt squares for the Sew-Op to make three quilts! Residents viewed the finished quilts with enthusiasm and suggested that Bib and Tucker organize a community "quilting bee" based on a different human rights issue each year. The second year's "March quilt" featured equal payment for women, and this year's will commemorate the Supreme Court's ruling on Loving vs. Virginia which struck down laws that had banned inter-racial marriage. As people sewed -and later viewed – these quilts, conversation around difficult topics was happening. People were coming together. All this because of two forward-thinking southern women who wanted to share their love of sewing and their commitment to social justice.
Click here to learn more about Bib and Tucker.