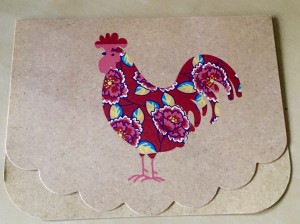 The petite brown envelope sat alone in the Sewing Machine Project post office box. Apart from the neat handwriting in its address there was nothing out of the ordinary about it. Running late, I picked it out quickly and headed for the car.
But somehow I just had to open it.
A sweet floral rooster graced the front of the tidy notecard and inside was this note:

Hi there!
This money was given to me towards the purchase of a new Bernina but I just learned about your organization and think you could put it to much better use! 🙂 (the smiley was the sender's)
Thank you for all you do and keep up the good work!
A neat handmade pocket was taped to the upper part of the card and tucked inside was a check for $1000. $1000 that this young woman could have used towards a new fancy sewing machine but instead, she passed it along to give others the chance to sew.
Touched beyond words by this gesture of kindness, I could only whisper a quiet "thank you" to whoever might be listening.
These deep heartfelt moments, these connections, are what the Sewing Machine Project is all about. These donations fund the work we do whether it is shipping machines or funding local classes. It feels like the most important thing in the world to be grateful and pass along the goodness.