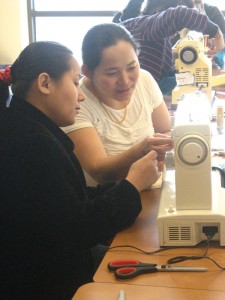 The Sewing Machine Project board met this past Tuesday. Typically we meet monthly but due to scheduling issues, it had been two. So there was lots to do, lots to catch up on. Most importantly, we needed to review 7 applications for sewing machines. This is truly the highlight of each meeting. On the surface, of course, there's the obvious–we are invited in to meet a group of people we've never met and hear their story, especially how sewing either has impacted their lives already or how they hope that it will. But it goes deeper than that. So many applications result in really great discussion, allowing us to dig deeper into who we are as an organization and as individuals. We have the privilege of being reminded again and again of all of the need in the world and that need wears a million different faces.
This month we approved every application with the caveat that one needs further development on the shipping logistics. We are sharing machines with a group in Sierra Leone that is building training centers for orphans and survivors of the ebola epidemic. Machines are going to a group here in Madison working with Hmong elders, honoring their incredible hand sewing traditions with a machine-sewing component. A few machines are being scooted down to Birmingham so a group can hand carry them to Haiti for work with Haitian women. A group in Mazomanie needs machines for community sewing lessons.  In Florida a group needs machines to offer basic sewing and mending lessons to women in recovery.  Another group in Florida needs a few machines so the children of that community can make little dresses to send to Haiti. And finally, a group in Savannah that is doing cool collaborative work with special needs high school students needs machines to add a sewing component to their budding program.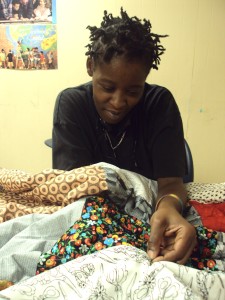 Each request is unique. Each request reveals a need and at the same time, a creative answer. I am blown away each day by the amount of need around us and also by the number of caring individuals and groups working hard to help others. Make no mistake–this is not about the haves and have nots. This is about recognizing that each and every one of us, at one time or another, is in need. It's about recognizing the common threads that exist between us rather than our differences. It's about holding out our hands to lift each other up and being there to catch each other when we fall.
It is the many small things that can make an impact and so we continue–doing what we can to be a (creative) part of the solution.