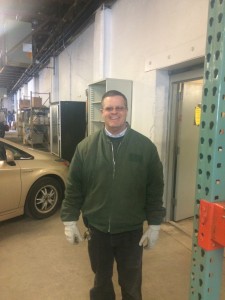 This is Brian. He is a facilities manager over at Madison Gas and Electric, where we store some of our machines and from where we launch pallets of machines hither and yon.
I've known Brian for a few years now–can't even remember when or how we met–but Brian's our go-to guy. Whenever we need to access our warehouse space, he's there to unlock the door. Whenever we need to load a pallet, he has the what we need ready and waiting. When it's time to load a pallet on a truck, Brian's the guy to help us do it. He even drives a forklift.
The beautiful thing is this: Brian's feathers never get ruffled. On Monday of this week we were scheduled to send out a shipment of machines to Florida. The Friday before, Bird and I gave a call and set up a time to get the pallet loaded. But the current hitch is the Madison firefighters are temporarily housed in the warehouse–huge trucks, a rescue boat, lots of boots and coveralls–hoses of all shapes and sizes. It's a little tough to get into the building! So "just dropping things off" is a little trickier than usual…you need to move a firetruck to get into our workroom. But Brian says "no problem! just come around the side" and lo and behold we drive up AND INTO THE BUILDING, ending up in the inner sanctum of MG&E. And strong able maintenance men appear and start unloading our cars so j

ust like that, it's done. And Brian smiles and says "don't worry, I'll get it shrinkwrapped! See you Monday!"
So we leave without a worry and let the trucking company know it'll be ready for a Monday pickup. Monday comes and our usual MO is the trucker calls me, I call Brian, we meet near the pallet and make sure it gets on the truck. No truck on Monday. No truck on Tuesday either. Brian says "don't worry." Finally, on Wednesday, when I am unable to get there, the truck appears. But Brian has it covered–signed, sealed and safely headed off to Florida.
Brian would blush if I called him an angel but that's what he is. His kindness and assistance have helped me, helped us, and frankly, saved us many times. He asks for nothing in return. He just smiles and waves, saying "see you next time!" And again and again, I say thank you.