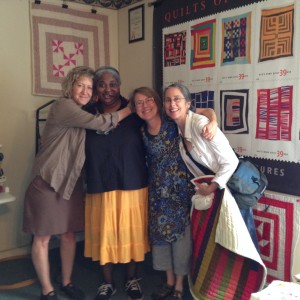 The Quilters of Gees Bend are quite a force. When I saw their exhibition in 2005 in Memphis during the national tour, I was blown away by the power and strength of these quilts–a raw art form, created not to be any sort of an art piece but rather, created to survive. These were quilts made of what happened to be around–your husband's old jeans, the flour sack in the mill. These were quilts to keep the wind out, to cover the woodpile, to wrap babies and old folks alike. And the beauty. The beauty!
These quilts, the women who created them, the history of the people and the place–it's all a part of the feeling that is Gee's Bend.
In 2007 I visited Boykin, Alabama for the first time, following the memory of these beyond beautiful quilts. I could hardly believe that I would meet the women descended of this long line of artists, still quilting as their mamas and grandmas had taught them. I called and asked if they'd like some machines. So on that first visit I took Sewing Machine Project machines–that time and many times to follow–making an offering to the people in the Gee's Bend community–an offering of the opportunity to have a machine of their own and also enough machines to create a classroom so they could pass along their art through classes offered at the quilting collective.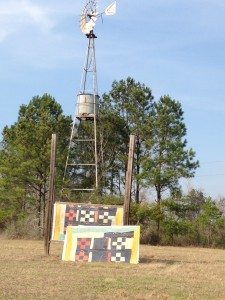 During a visit in October of 2014 the ladies made me promise that the next time I visited I'd spend the night rather than making the 5 hour drive back to New Orleans in the same day. So in mid March on our latest trip, Bird, Ann and I spent an evening in Gee's Bend.
We made the Camden to Gee's Bend ferry just in time, arriving at the cooperative mid afternoon. We were greeted with big warm hugs at the door, kind smiles and conversation, catching up and introducing new friends. That evening, our host, Mary Ann, made us the coziest meal ever–gooey macaroni and cheese, fish, potato salad and her own special (and delicious) pound cake (it's all in the flavoring :-).
After dinner we went calling, visiting Mary Lee Bendolph, an elder in the community, and a renowned quilter. Since her stroke in 2008, Mary Lee hasn't been able to quilt. We sat at her feet while she told stories of her young life, raising her kids, learning to quilt, the "discovery" of the quilts and the many opportunities that discovery has created. Outside of Mary Lee's voice, you could have heard a pin drop in that room.
We visited Mary Ann's sister, Julia and her sweet family. Seemingly disrupting their relaxed evening, we were welcomed and hugged all the same.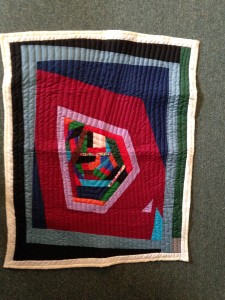 We took a long walk under the stars, guessing what the strange sounds in the dark were. As we walked, we remarked at how safe and "held" we felt in the complete and quiet darkness, walking fearlessly down unfamiliar, winding country roads. The sky, brightly lit with stars, blanketed us. And we slept soundly through the quiet night in Mary Ann's sweet brick house.
When morning came and we wandered out of our rooms, Mary Ann was already busy, han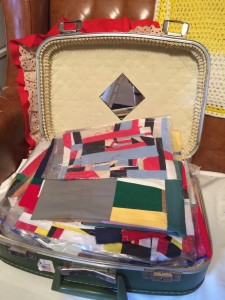 d quilting some of her smaller pieces…each one already purchased by students in a recent class she'd taught. "Yes, the Lord blesses me," Mary Ann remarked. Amen.
Amen. How blessed we felt to be fed, to be nourished-body and soul-in the arms of these talented, humble, generous women. As we said our good byes and they sang verses of "I don't want nobody to praise me when I'm gone" we looked at one another and wiped away the tears. There are no words for the power of this place. It cracked us wide open.
As it should.
Amen.