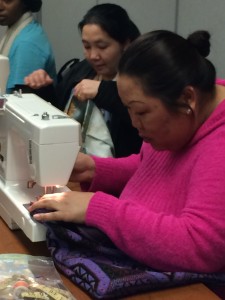 It might have been because a couple of students had missed one class and needed to make one up but what really seemed to be happening was that the students couldn't get enough of sewing. "Just one more class?" they asked Rebecca. And of course she said yes. This group was so jazzed about sewing and really making progress with their new machines.
So Rebecca taught one more class and lucky me, I got to attend. Today they wanted to make totes and covers for their new treasures–their sewing machines. So without patterns, they measured and carefully cut fabric to fit, designing what best met their needs. One long strap or two shorter ones? "That's a design decision," Rebecca said so they made choices.
Every class is required to Pay it Forward in some way. These students had decided to make fleece hats for children and adults at the Center who needed a little extra warmth during this cold winter. One student was finishing hers up today–brightly striped and cozy, she was so proud of it.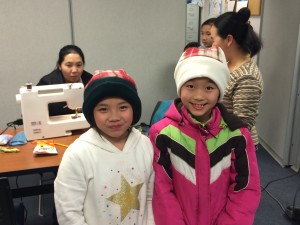 Towards the end of our time together children filled the room, looking for their moms, the students in the class. They tried on the hats and giggled. On the way out I heard a child ask her mom "what did you learn today?" and her mom replied "I learned how to make a tote bag…do you want to see it?"