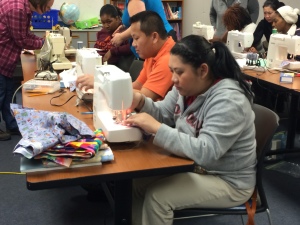 Beginning Sewing Classes have, well, begun! at Northport Community Center. Our enthusiastic 8 students are learning new sewing and mending skills and having a great time!
We are fortunate to have our wonderful instructor, Rebecca Sites, at the helm and such great volunteers assisting in the classroom.
The class runs for 6 weeks and includes a Pay it Forward project–this session students will make fleece hats to donate to a local shelter. Upon graduation, students will take home their sewing machine. Awesome!