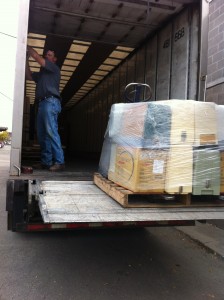 I needed to load 20 machines on a pallet and ship them to New Orleans. Behind the 8Ball on this one, I was rushing around to organize which machines to send and where I'd get them.
So it was that yesterday I ran over to the Lake Edge Lutheran Church, our current home, to see what was in stock there. It's a joy to walk in the door every time as I'm met with smiles and curiosity about what project we're up to now.
I remembered that Michelle from Iowa had delivered some beautiful machines a few months before and that she'd done the work of checking them and making sure they were in good working order. So I pulled out 10 of those machines, old and heavy, still hidden in old cases. One by one I opened the cases and viewed the machines for the first time. Michelle's spirit shone in those machines. Cleaned and oiled, each beautiful in their own way. She had even printed instruction manuals off of the internet to accompany the machines!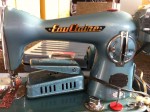 So I weighed the machines, some were over 40#! I sighed, thinking of the stairway down to my waiting car. Lugging the first machine downstairs, I glanced into the lower classroom, now being used by LaFollette High School's New Directions program, helping teenagers who struggle in a traditional classroom setting. I stuck my head into the room and asked for help. Five strong, beautiful teenagers followed me out the door and carried the remaining machines downstairs, laughing, talking, and helping me strategically load them into my car.
Then I ran over to MG&E to pick up the remaining machines. MG&E has graciously donated warehouse space to the SMP for years now. Brian, the warehouse manager, met me as usual and with a smile, helped me locate the remaining machines and load and wrap the pallet. He assured me that he'd be there later to reopen the door when the shipper arrived.
I came back home and emailed John in Baton Rouge, where the machines will land. I received a reply from him quickly, assuring me that they'd receive them, load them in a van and deliver them in time to a location closer to New Orleans so I can pick them up.
Nothing happens in a vacuum. We need each other every step of the way. I am so grateful for all of the hands that reach out to help the Sewing Machine Project whenever they're needed. Hands attached to smiling faces attached to generous hearts. We are all so lucky to have each other.