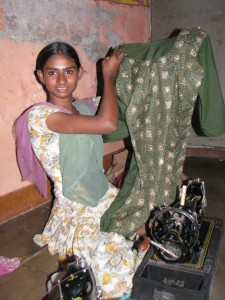 My sweet friend Tricia is such an adventurer. Her young, restless soul is all too familiar to me (ok, maybe not the young part…). It's so cool, though, that Tricia seeks ways to help others in this world while learning about other cultures during her travels. So it was no surprise when I learned that she was traveling to New Delhi to work with Apne Aap, an organization whose mission is to help young girls escape the sex trades or better yet, to learn new skills while young so they never enter that scary world at all.
Tricia's been in New Delhi for over a month now. Soon after she arrived I got an email from her asking if there was any way that the Sewing Machine Project could donate some machines for their fledgling sewing program. Our communications scurried back and forth over the miles and we figured it out. Application, check. Logistics, check… Funding? I always ask that recipient groups donate a part of the shipping fees so Tricia got busy and raised that money! She asked the generous folks at The Great Dane brew pub to chip in and they were happy to help.
So the shipment's all packed and ready to go. It'll take the machines awhile to arrive and I can't wait to see the pictures of the girls unpacking the machines…yes, of course, I'll share them!