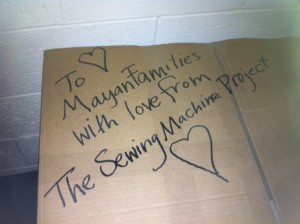 Today was the day!! After months of planning, researching and preparing we shipped  83 machines to a group called Mayan Families in Panajachel, Guatemala. Mayan Families already has a little sewing program going but there has been so much interest that they needed more machines! Enter The Sewing Machine Project.
After the recent gift of 325 matching machines generously donated by Bernina of America, we were able to send the requested 80 machines (plus 3 for parts) to this awesome organization.
Initially, we'd planned on palletizing these boxes but after talking further with Medrano Shipping we decided to pack machines into bigger boxes to save money. It was great because we crammed as many machine boxes into the bigger boxes as we could and then filled the nooks and crannies with donated fabric and supplies that so many people have lovingly given us. Jorge, the Medrano representative (and really strong guy!) helped me get everything organized in the box/pricing department. Cherie St. Cyr helped me pack the boxes, carefully choosing fun fabrics and tools to go along. Teamwork! Of course, poor Jorge had to schlep the huge heavy boxes down the stairs and into the truck…
It'll take a few weeks for the machines to reach Mayan Families but I imagine when they do it'll be like Christmas. I hope so.