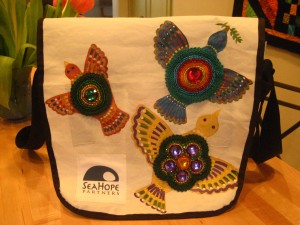 This SeaHope bag represents a beautiful collaboration! When we first dreamed up the Artists' Bag series, Cherice Harrison-Nelson, "Queen Reesie" of the Guardians of the Flame, made some beautiful medallions to use on a bag. I just didn't have a bag that would do them justice and they laid next to my desk for awhile, where I could admire their bright colors and glinting jewels.
My answer came in the form of Jane Drew. Jane and her friend Barbara, two New Orleans artists, offered to "do" a bag and I asked them if they might integrate Cherice's medallions. No problem, they said! So I sent down the medallions and the result was this gorgeous bag!
I'll keep you posted on the availability of this bag…most likely it will appear as part of the showing at Absolutely Art in June of this year. It's so lovely…I want everyone to be able to see it up close and personal!