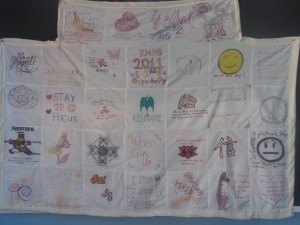 In October of 2010 I had the honor of visiting Kenmare High School in Jersey City, New Jersey. This alternative high school offers an alternative, a second chance to women facing poverty by not only offering a more holistic education but also a place to live, life skills training and child development. The women at this school have seen so much…more than I can probably imagine. These young women, often with young children, are working hard to complete their high school education and to find a job to support themselves. There's an element of tough love there, but what one feels the most is the warm embrace of a place that supports and encourages these women in their journey.
I was visiting the school truly as a guest of another organization but, as so often happens, the lesson I thought I'd come there to learn wasn't the big lesson. I fell in love with this school, the women who were working so hard to improve their lives, and the women who gently and wisely guided them. Clearly everyone was learning from everyone. And I learned so much.
Before leaving, I arranged with the principal to send sewing machines so the students could begin a sewing program. Recently I checked in with the group to see how it was going. I haven't gotten the full report yet but what I know is this…the machines are of great use. There are sewing classes and their most recent project is making gardening pouches for use as they plant their spring garden. Ahhh, spring and renewal.
I also received this photo of a quilt the women made together. Take a careful look and read every square. Take a moment to be grateful for your life and all you have and send up some thanks for organizations like these who help those who sometimes have trouble finding their place and helping them to remember how beautiful they are.