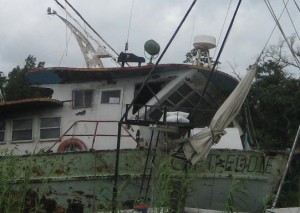 I am here in Louisiana learning more about the southern part of the state, talking to people affected by the oil spill, learning how The Sewing Machine Project can help. I am learning so much. I am in Terrebonne Parish, an area where most everyone either works in the fishing or oil industries. The oil spill touches everyone so directly here.
Driving down the bayou, seeing the fishing boats either on land or re-rigged with oil skimming equipment is such a sad sight. Seeing the shrimp and oyster plants closed down…it's right there in front of us. Where I've been, I haven't yet seen oil washing up on the shores, like we see in the news. This is a swampy area…bogs and long grass, long legged birds…looking out in the distance we can see the Gulf and we know that the oil's right out there. The boats that head out don't have to go far to find oil. The weather in the past few days have kept most boats from going out at all.
I met some fishermen on Monday who had spent upwards of $20,000 to re-rig their boats for skimming. They'd been working for 38 days straight, they said, and still hadn't seen a paycheck.
I talked with a woman who's family has made cast nets for generations…she's made that her full time job since her husband died…and there just isn't any need for the nets now.
I am staying in a bed and breakfast where other guests include BP workers and a woman who is busy relocating cleaned pelicans. Everyone's focused on this monumental crisis.
We keep working and planning for SeaHope–our way to help the people who's lives have been so drastically altered.