I've just returned from my sixth trip to New Orleans, taking over 60 machines to that recovering city. Each time I visit I learn more, experience more, feel more deeply connected to the area and its people.
We did so much on this trip! I began by connecting with Anna Morgan, who runs the Adams Street Cultural Development Center. This is an amazing place! Anna purchased a building that had been abandoned and was in miserable shape. What she's created is unbelievable. The building is renovated so beautifully! The lower level is designated as a gathering place for the neighborhood. Anna is planning events and classes for this lovely and functional space. The Sewing Machine Project donated 5 machines which will be used for sewing classes at the center. The building's upper level holds 2 apartments which will house transitional teens.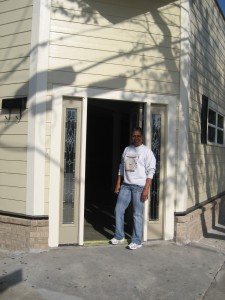 Anna at the Adams Street Cultural Development Center
 I also met with Carolyn Gillman who has begun a program called No Matter What. She's working hard to create a teacher resource center in the New Orleans area. I took the books which were donated by The Book Rescuers in the Madison area and gave them to Carolyn to stock the school libraries in New Orleans. The books are sorely needed.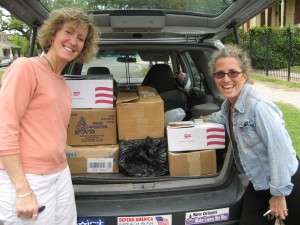 Marg and Carolyn with the donated books for NOLA schools
And, of course, the sewing machine distribution! We unloaded the truck on Monday with the help of volunteers from Katrina Corps. The kids were awesome. This group of volunteers was actually visiting from a school in Milwaukee, Wisconsin…small world!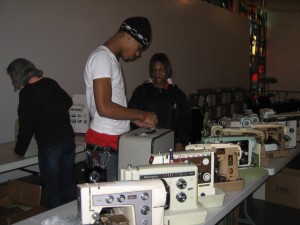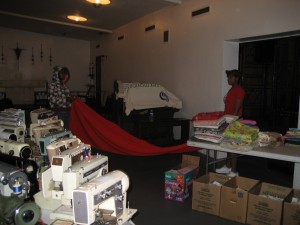 Katrina Corps Volunteers helping with set up
On Tuesday we held the distribution. These events always bring such emotion for both the volunteers and the the recipients. We heard stories of loss and endurance and also such hope. People are still struggling in the Gulf Coast region and these machines are one small sign of hope. Over and over again I heard people say that they couldn't remembered that WE remembered them after all this time. We gave out 50 machines to individuals who had lost theirs in the storm. People were excited about sewing for themselves and there were also lots of plans to teach others to sew. In addition, a few recipients were excited about starting or restarting sewing-based businesses.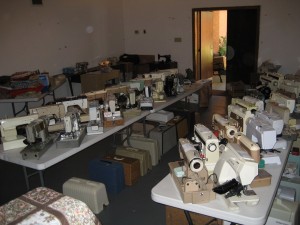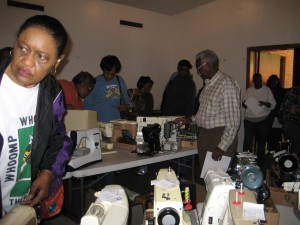 Again and again, I am shown that this project has an important place in the mending of this region. Again and again, I am told that my work is not in vain. This project brings hope, creativity, a new opportunity, a new outlet for people who are struggling to rebuild their city and their lives. Thank you to everyone who continues to believe in The Sewing Machine Project.
Margaret