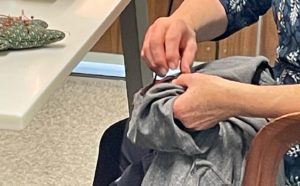 I honestly believe that I have been given The Sewing Machine Project to guide. And that's exactly what I do, however, I could not do this work without the support and help of so very many people–unsung heroes.
Let me sing their song now.
Pattie in Minnesota, a retired engineer, picks up sewing machines and makes sure they are in the "excellent condition" that we require. She goes many steps further–making sure each machine has bobbins and a manual, any appropriate feet. Each machine is in a hard case, well protected. And to top it off, Pattie delivers the machines to our Madison collection sites AND makes a financial donation with each delivery to get machines where they need to go. When we assemble a set of machines to send off to our next applicant, we breathe easy seeing Pattie's familiar labels, knowing we simply need to add our label and a few needles and the machine will be ready to go. I sing a song of gratitude for Pattie.
Peg from Madison wanted to get involved and we talked through what was meaningful to her. Peg is now creating beautiful, curated sewing kits in tidy little bins, to offer in our local classes along with the machines students receive. Peg, I hope you hear me singing a song of thanks to you.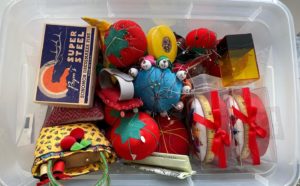 Our volunteers do so much from helping in local classes, to mending, to picking up and checking machines to organizing our workroom. When Karen says it is meaningful to her to oil a machine and hear it hum, I say "yes!" When Kate tells me how meaningful it is to mend beloved clothing for strangers, I say "amen". I sing it loud and with feeling, thank you!
My board members meet each month and share the triumphs and lessons the organization encounters. These women are dedicated, wise, and wickedly funny. I feel their support as I guide this ship and I know I wouldn't be able to do it without each of them holding the ropes. Board members, I hope you hear my song of gratitude.
And as the news of The Sewing Machine Project's work reaches an ever-widening audience, our community grows. Folks from near and far are contacting us, wanting to become part of the community. We welcome every one. In these times, it's easy to wonder how we can possibly make a dent in all that's swirling around us. And my answer is this: start with one small step. And sing a song of gratitude every chance you get.