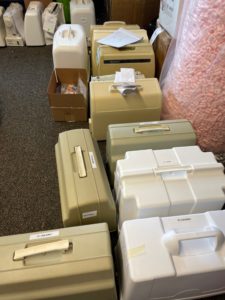 …an excerpt from a letter I recently wrote to a donor
This letter so full of gratitude…I hope you can feel it spilling off of the page. 
I recently reached out to a few of our volunteers asking them to take over the preparation of three shipments of sewing machines to three different groups. I've had a death in the family—and my own immediate family is moving in slow motion. So I asked others to help with the jobs I normally am a part of, namely, checking and packing machines that we've promised.
We had three shipments of 5 machines each to prep and ship. The first shipment is going to Miami and from there, it'll go to Colombia. A group based in Miami has created a remote learning platform to help a sewing school in Colombia. We needed 5 basic machines with similar bobbin systems that could work well together in a classroom. We chose 5 front load Kenmores that should perform well together and which are easy to maintain.
The second shipment is going to Arizona. From there, members of a church will take them over the border into Mexico where they'll be used at a detention center, serving people waiting to have their cases heard to enter the United States. They'll be learning basic, necessary sewing skills. We chose 5 front load Kenmores. Again, easy to maintain and easy to use.
The third shipment is going to a library in Pennsylvania where they are creating a multi-generational sewing program. Those who take the classes will be certified to come into the library and use the machines on their own. They also hope to use one or two machines in a "library of things"—a tool lending library. We chose a variety of 5 sturdy machines.
"5 machines" has meaning to me and it struck me that each of these groups requested 5 machines. In the early days of the Sewing Machine Project I was preparing to drive a truckload of machines to New Orleans, not that long after Hurricane Katrina. I called ahead to people on the long list of those waiting for machines. One woman I called was named Anna. When I asked if she still needed a machine she replied with an emphatic "yes!!", and went on to tell me how she and her fiancé were fixing up a run down house in a tough neighborhood, planning on making it a safe haven for the community. "People are afraid to come out of their houses," she told me, "we just want to make it a place for people to gather. We'd love to offer sewing classes." She paused. "Do you think we could have 3 machines?" and I agreed.
We finished our call and minutes later, she called back. "Do you think we could have 5 machines?" she asked. "Yes," I replied. After we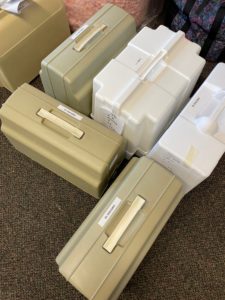 hung up I took a look at the set of machines I planned to take to New Orleans, looking for 5 that could work well together in a classroom. That groups of machines couldn't have been more different. I sighed and headed out, called away from the store where I worked, a sewing shop that allowed me to store our waiting machines in the warehouse. 
Two hours later I returned, entering the shop through the front door. There, parked in the entry, were 5 machines, all lined up. I asked my coworker what the deal was with these machines…people typically didn't leave machines there for service, for any reason. My coworker replied "While you were gone, a women stopped by—a retired sewing teacher. These were her classroom machines. They are all tuned up, all clean and ready to go." Awe doesn't begin to describe my reaction. I looked at the machines. Indeed, they all matched and were all threaded with bright new spools of thread. It felt like a miracle.
I couldn't help but think of that story when we picked and prepped these recent groups of machines. They came to us clean and ready, clearly labeled and ready to go—the handiwork of a donor who takes care to make sure we receive everything in excellent working order. We simply put our SMP sticker on them, added some bobbins, needles, notions and fabric, and they were ready to travel. You have no idea how many times we've each said "Thank you" for the gift of these sturdy, clean, well cared for machines, ready to go when they hit our doorway.
Thank you all for your gifts that allow us to share the gift of sewing with others.