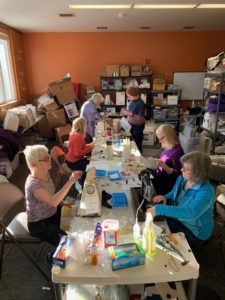 It takes a village to do most things…raise a child, nourish a family, nurture a full life. The Sewing Machine Project, I discover over and over, is a village in itself–a tiny, busy, loving machine that whirs with energy. I'm reminded every day, as our menders tenderly repair beloved garments, our helpers in local classes patiently work beside new learners, and dozens of caring folks help to make this nonprofit the wonder that it is. On Monday, as with many Mondays, I was reminded as I worked with our Machinist's Union team.
One by one they arrived, Nancy, Karen, Annette, Trudy, Lois, Claudia, smiling and greeting one another, choosing a machine and getting to work. We sit together at a long table, sharing life updates, helping one another when feed dogs are sluggish or a foot doesn't fit quite right. We are a family of workers with a common goal, to make the machines in front of us sing.
On Monday, Annette showed us how to attach a hand crank to a beautiful old Singer machine. This machine, along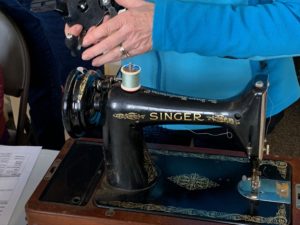 with 10 other converted models, is headed for a Masaii village in Kenya where electricity is sporadic at best. 15 electric and 10 handcrank machines, our little village is preparing tools for a community center in another village halfway around the world. This international shipment is rare–we don't typically ship out of the country. But our partner group has a foothold right here in Madison and their container leaves in a month. Our task is to ready and deliver the machines to the container site close by. We have to hustle to get things ready.
Everyone is interested in where the machines are going, invested in readying tools that will make such a difference in the lives of others. We believe in the difference a sewing machine can make.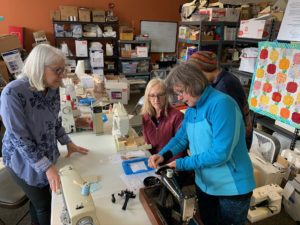 And so, amidst the hum and whir of machine motors, the soft click click as the hand cranks turn, our little village takes our place in the larger human village.