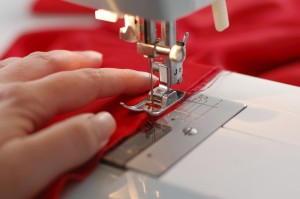 2020 brings the 15th anniversary of The Sewing Machine Project! Back in 2005 when collecting a few sewing machines seemed like it might be a good idea, I never dreamed we'd be here now. But here we are! A testament to seeing what the Universe holds in store, The Sewing Machine Project has certainly taken on a life of its own and continues to amaze.
This year we'll celebrate all that sewing can bring to a life, to a community. We see, we know, that sitting together, hands carefully manipulating beloved garments or inspiring fabric, that sewing speaks its own language. Sharing warmth and skills that inspire and instill hope, learning to sew breathes new life.
I've been excited to see sewers in every corner of the world, using their talent to mend the hardship they see. Sewing groups making handmade booties for koalas and "joey pouches" for little kangaroos affected by Australia's devastating fires, the talented young Indian women of Sewing New Futures making new products to sell, thus designing and taking control of their futures, sewing holds power and possibility, a language all its own.
We can't wait to share stories in 2020 of the groups with whom we work and the ways they are impacting the world with a sewing machine.
Stay tuned.