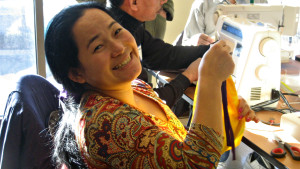 The room hums with machines and voices, punctuating one another in a single story made of many stories, many voices. It's a sewing day. The women, a unique weave of cultures, share their skills and lives with one another.
While there is plenty of leaning in to assist with threading, to adjust a bobbin, to offer advice, there is a greater "leaning in" here. Conversations spin around every aspect of life–family, home, common struggles–problems are discussed and often solved. More importantly, voices are heard.
Sewers know this. We know that when we sit down to sew together there's an indescribable peace that comes with the community that is formed. A peace borne of listening and being heard. I know that when my hands are busy at the machine my mind is free to roam in every dimension and I'm often surprised at the knots in my thinking that loosen, the rough spots that become smooth.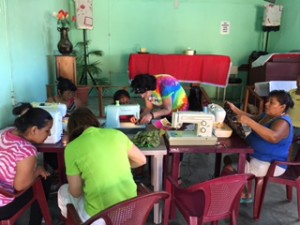 Emile Durkheim coined the phrase "collective effervescence" in 1912 and Brene Brown brought it to my attention in her book Braving the Wilderness. The notion of "connection, communal emotion, a sense of the sacred that happens when we are a part of something bigger than ourselves" is familiar–I smile when a feeling I've had is put so beautifully into words. More recently, researchers(1) used the term "collective assembly" to describe and measure these experiences. They found that the unique sense of community formed when coming together around something greater than ourselves contributes "a sense of meaning, increased positive affect, social connection, and decreased loneliness". I read this and think "exactly".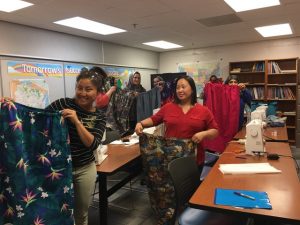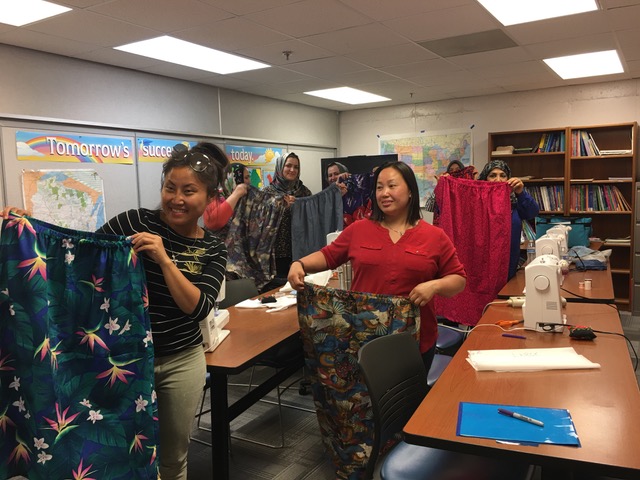 When we come together to sew, we create. Soft fabric moves beneath our hands, accompanied by the music of the machine's motion. Our minds calm and focused in a unique meditation, we are able to raise our eyes and really see one another. We are able to listen to one another. Looking into each other's faces we are able to read expressions, to hear the emotion in our neighbor's voice. And we know we are a part of something greater than ourselves. We are part of a community and the belonging is powerful and healing. Collective effervescence.
(1) Researchers Shira Gabriel, Jennifer Valenti, Kristin Naragon-Gainey, and Ariana Young.