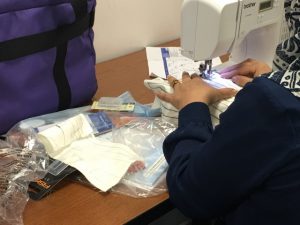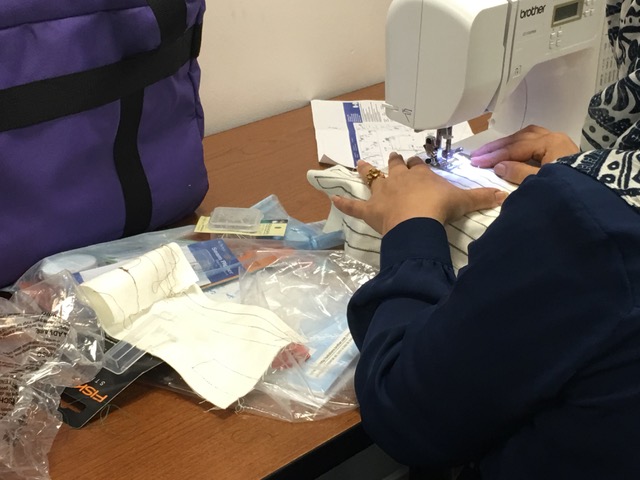 We do not live in a vacuum. We are here to interact with one another. We are here to lift one another up and walk alongside one another.
This is so true for The Sewing Machine Project. We exist because an idea was lifted up and people felt its power. Individuals and corporate donors keep us stocked and afloat, with generous financial gifts along with donations of sewing machines and supplies. We exist because we are lifted and supported.
There are moments when this is so powerfully true. In preparing for a recent local class, we gathered sewing machines and supplies to offer our Beginner students. Refurbished sewing machines donated by Brother, USA. Totes to cradle those machines donated by Bluefig. And then, the piece of this puzzle that brought tears to my eyes–beautiful, organza bags of tools, assembled by a donor named Sue in memory of her friend, Laura. Laura loved to sew and what better way to honor her than by helping others sew. The bags were beautiful and the tools of such high quality! This gift, lovingly assembled, holding a friend in mind, captures the spirit of what The Sewing Machine Project is about. Not only does the work we do touch those who benefit from machines and education, but the donors who lift us up feel its power and know that they are contributing to something that is designed to lift others.
I am grateful to each and every one of you. For your gifts, for your support, for your belief in the power of love and creativity. You lift us up. And in these times, it's a great reminder to walk beside one another, celebrating, leaning, learning.
Thank you.