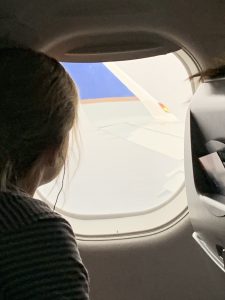 "Mom, do you know where you're going?" my 14 year old daughter asked incredulously. It was March, 2006 and Maddie peered at the map as we threaded through the Arkansas hills. The clunk, rattle, clunk of the rented Enterprise van had become familiar. I no longer worried with each shift of the 50 sewing machines that were piled in the back. "Pretty much," I responded.
It was the first trip delivering sewing machines to New Orleans. When Hurricane Katrina gathered and swept through in August 2005, I'd watched in horror. Having visited the area only weeks before, the corners, the streets, the people were fresh in my mind. As the city went dark and descended into a murky chaos, it was clear to me that the direction of this budding organization needed to shift to the Gulf.
I made the decision without knowing who I'd connect with. Did people even need sewing machines? I'd waited respectfully for the water to subside, leaving a bare, littered canvas where homes once were, where the movement of life once existed. My friend Deb had suggested I talk with her brother in law, Walter, at Grace Episcopal Church on Canal Street to see if he could help. Walter and his assistant, Martha had been an enormous help, offering up the gutted sanctuary of the church for sewing machine distribution.
And the people came. All 50 sewing machines were gone in less than a day.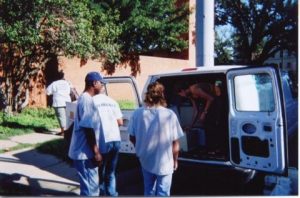 I'd thought that that one trip would be it. I'd distribute sewing machines and go home, resuming life as I knew it. But life had taken a turn I didn't yet see. Listening to the stories in the church that day my own story began to shift. "Just when we think that no one remembers us, someone like you comes along and brings hope back." Spoken by a woman wearing Mardi Gras beads, delighting over her new (old) sewing machine.
I went home and began collecting more machines.
Today I will get on a plane with two of our board members, heading back to the city I've come to know and love in all of its quirkiness and brokenness. This will be my 20th trip to New Orleans since 2006 and in that time we've delivered over 1000 sewing machines to the region. To hundreds of individuals who populated a handwritten list I guarded carefully, walking with them as they found just the right machine in our mismatched collection, delighting as they laid eyes on an old Kenmore, an aging Singer. They'd exclaim "that's just like my machine!" I'd ask them simply to Pay it Forward when they expressed their gratitude. "Help someone with that machine," I'd say, "share it, teach someone to sew, make something for someone else." And they did.
Each trip has been an adventure, calling me with an element of the unknown as I chart my course in a city that defies orientation. Built along the river's crescent shape, the compass point spins with navigation, teaching me that its ok to move forward in faith. I do and I have.
On this trip we'll deliver machines to the Mardi Gras Indians for a new community project. We've worked with the this community for years now and I'm excited to see this new effort take shape.
I'll keep you posted.