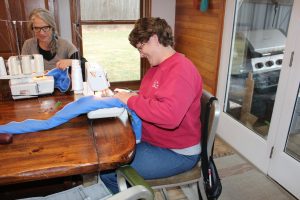 The ladies in Winter, Wisconsin are sewing up a storm. This time of year, it's probably a snowstorm!! A recent article in the Sawyer County Gazette shared details of the sewing program. I've included the text from the article here as there is no online link.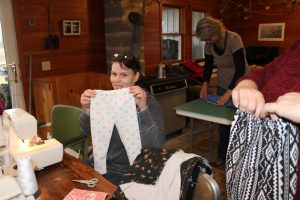 Sewing in Winter, Wisconsin
Communities and their members come together often, in many good ways.   Recently The Sewing Machine Project has paired with Elaine Schuck to bring sewing to a number of women in the Winter area.

The Sewing Machine Project (SMP) is a non-profit organization which takes in donated sewing machines, checks them over, cleans them up, and donates them to men & women and organizations who can use them, but not necessarily afford them.  Linda Sweeney, a summer resident of Winter is on the Board of the SMP which is based in Monona/Madison WI.   She heard about the Sew 'n Sews, a local group of women who sew an astounding number of quilts each year which they donate to hospitals, veterans groups, and other charities.  Linda approached them to see if they needed any machines and provided them with one from the project.  
It was there that she met Elaine.  Elaine volunteered to teach a sewing class to area women.  Since that time, Elaine has taught three classes in sewing and one in the use of a serger.  Her effort has brought sewing & machines to a number of women who would otherwise not have had the opportunity to learn this gratifying and useful skill.   We look forward to her teaching more classes !
Thank you, Elaine for donating your time, expertise and teaching skills to women in the area!