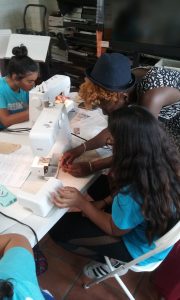 Merline Labissiere's application for machines was a dream in action. A finalist in Project Runway season 14, Ms. Labissiere couldn't wait to teach kids to sew. She started the Provokestyle nonprofit to get this idea going. Working with kids from two communities in South Florida–kids who otherwise wouldn't have the means to enjoy this kind of opportunity- Merline just needed sewing machines to get her dream off the ground. She wrote to the Sewing Machine Project earlier this year and we shared the application with Babylock. Babylock generously donated the sewing machines to get things rolling. The first sessions of Provokestyle Fashion Camp were off and running this summer.
We just heard from Merline, who shared stories and pictures. Stories of kids helping kids, creating and learning together. I love her mission statement:
"Our mission is to provoke style in the hearts of the next generation in order to dream beyond today."
Many thanks to Babylock for this generous donation and to Bird Road Sewing for their help with receiving delivery of the machines and for offering technical support.