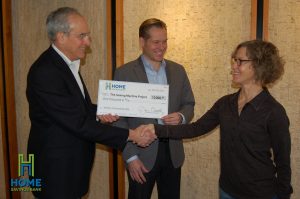 Recently I received an email from Home Savings–a locally owned bank here in Madison. Were we interested in participating in Humanity 365,  a contest highlighting local charities, with a chance to win $1000? Well, why not?, I thought.
The ap was submitted, the rules explained. This would be a contest through social media where followers of each charity could log in a vote each day for a week. The charity with the most votes at the end of the week got the money.
And so the day came and the contest started. I put it out there to our Facebook tribe and
what happened next was magic. Our followers grabbed a hold of the contest, sharing the post, making sure they voted each day, cheering us on as we watched the scores fluctuate on the Home Savings FB page. "We're almost there!" "We're in the lead!" "Come on, we can do this!" It was beyond delightful. It was a thrill. We were one big virtual team, heading for the finish line.
And we won! With the help of so many excited friends, we crossed the finish line together.
I picked up the check just a few days ago, having the chance to shake hands with the President, Jim Bradley and VP of Commercial Banking, Matt Rosenthal, and to thank them in person.
To a small organization like ours, $1000 makes a big difference. 
$1000 will buy:
shipping for 33 machines (via UPS) to a destination within the US;
payment to our local teacher for 3 6-week classes;
enough packing peanuts and bubble wrap to ship 240 sewing machines:
sewing kits for 66 students;
41,666 straight pins (but who's counting?!)…
You get the point. This gift is such a big help to us and we are so very grateful.
Thank you, HOME SAVINGS BANK!