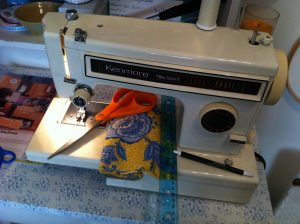 The email drifted in like so many, through the portal on our website. "I have a sewing machine I'd like to donate. Do you have any projects or sites in my area? I live in New York."
My dream has been to create a network of dealers and sites so machines could stay in their area but like so many ideas that live and grow within The Sewing Machine Project, this one is still unfolding. So often I reply to these inquiries offering the donor the suggestion of looking locally, inquiring at shelters and churches to see if there's a need–basically throwing the ball back into their court. But for some reason, I let this one sift a bit.
Thinking back to a weekend in 2010 I needed to do some remembering. I had traveled to Jersey City, New Jersey to participate in a weekend sponsored by another nonprofit, Enchanted Makeovers, as they worked their magic in a school/shelter just outside of New York. The York Street School is doing extraordinary work and the weekend I was there brought connections with extraordinary people: the school's principal, Maureen, a dynamic and compassionate presence in the school and in the lives of the girls who attended; the mural artists who created a fantastic piece of art in the space of a weekend; the quilters who made beautiful quilts for the students; and so many other talented folks. It truly was a gathering of compassionate and creative people and the connections I made that weekend have endured to this day.
My connection with the school was (of course) about sewing. I took along a sewing machine and sweet little tool kit back in 2010, which was presented to one of the students during that weekend. Following my visit, we sent sewing machines to support their dream of offering sewing classes.
I replied to the email, connecting this new donor to Principal Maureen. I've done this on occasion in the past–sometimes it works, sometimes it doesn't. This time it did. My sweet donor, Susie, wrote that she'd scheduled a time to stop by the school and drop off her donation and about a week later, I received notice that she'd been there, not only leaving a beautiful sewing machine but, along with it, supplies for sewing. I just love when these things work out, coming full circle.
It is my belief that the world will not be changed by big showy displays but rather by small acts of kindness, each connection creating a little spark that glows in our tired world, adding strength to the whole. We call ourselves "small but mighty" at The Sewing Machine Project but we most certainly realize that we do not work in a vacuum. Each connection, each act of kindness, like Susie delivering her machine to New Jersey, kindles the flame that is the Sewing Machine Project, and reminds us that it is in these small connections that we find strength and growth and meaning.