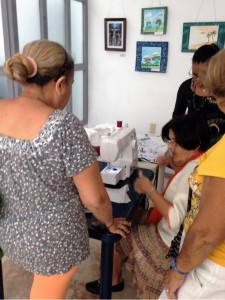 We are so excited to tell you about this new initiative! The Sewing Machine Project and AllBrands.com of Baton Rouge, LA are partnering to send sewing machines and supplies to start sewing classes in Cuba!
AllBrands is generously donating 25 new Brother sewing machines. The task for The Sewing Machine Project is to send sewing supplies for the students and the classroom. Each student will receive a basic sewing kit and they'll need supplies to outfit the classroom.
And then there is the fabric! We'll be sending that as well to get things started for them. Fabric in Havana is really expensive and most people cannot afford to purchase it new. So we'll be sending lots of beautiful fabric for their class.
And we'll need your help! You can Sponsor a Sewer with as little as a $25 tax deductible donation. Donations will be used to purchase supplies and fabric. We'll be preparing this shipment during the month of May so time is of the essence.
We're so excited to find a way to revitalize and support the sewing culture of Cuba and we hope you are too.