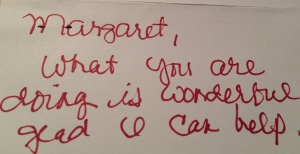 It's the end of the year–our 10th Anniversary Year–and along with everyone else, I'm wrapping up budgets and reports necessary at year's end. But I keep getting distracted. Because throughout the piles and folders and reports and receipts there are notes. Notes from so many people that ask me to pause, and make me smile.
Notes of encouragement:
"keep up the good work! you inspire others!".
Notes of insight:
"In the course of history, there comes a time when humanity is called to shift to a new level of consciousness, to reach a higher moral ground. A time when we have to shed our fear and give hope to each other. That time is now."
Notes of remembrance:
"This donation is made in memory of my mother, Kitty. She loved to sew and was an excellent seamstress. She told me a few weeks before she died that she'd always considered sewing to be her talent."
These notes are you. This wisdom, this tenderness, this encouragement–it all speaks to who and what The Sewing Machine Project is. More than just an entity, this Project somehow evokes our deepest memories and touches our hearts in such a powerful way. On a day like today, and most days really, I am overflowing with gratitude. Not just for the incredible generosity evidenced in these reports and receipts in front of me, but even more for that deepest part of you that you share with The Sewing Machine Project.
In the donations, the notes, the boxes of treasured notions, the machines containing histories so creative and so dear, I see you and I know exactly why the Sewing Machine Project has endured for 10 years and continues to grow in new and beautiful ways. This project is infused with the love of so many. No business report can convey its depth, no business school can teach such gratitude or soulfulness. It just happens, and it's happening here.
And I am so grateful.