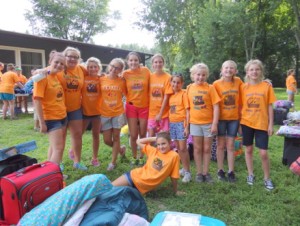 When Amy Schisler requested 10 sewing machines for her Camp Summer Roundup program in Maryland we read the application with interest. Camp Summer Roundup serves Girl Scouts in  Maryland and Delaware, offering a summer camp laced with creativity and caring. Amy detailed that even outside of camping months the machines would be used for retreats and enrichment programs. We were thrilled to learn that girls would not be turned away due to lack of funding–the Summer Roundup crew has "angels" offering scholarships.
As with any educational machine request we looked around our inventory to choose suitable machines. Just as we were beginning that process a gift arrived on our doorstep…make that 10 gifts. Our friends at Bernina of America donated 10 Bernette sewing machines! Yes, 10.
The machines are lovely and I have no doubt that they'll be well-used. Easy to use and teach on they're the perfect machines to send to the Roundup.
Bernina has supported The Sewing Machine Project in the past with machine donations and wonderful promotional events. We are so very grateful.