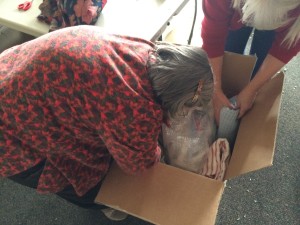 The boxes arrive in bundles these days, the bubble wrap in huge rolls that push my porch door ajar. We're shipping machines, folks…lots of them. We always have, really, but the volume is increasing. It's been an evolution as pretty much everything is. In the beginning, shipping to Sri Lanka, I was working with the American Hindu Association's Madison chapter, packing boxes collaboratively–a sewing machine in the middle surrounded by medical supplies, toys and fabric–an offering to those whose lives had been blown apart by the tsunami.
Then along came Hurricane Katrina and I was renting a van which later became a 14′ truck–filled to the brim with machines just freestanding, on their own and in cabinets, delivered as an offering to New Orleans residents picking up the pieces after the storm.
When palletizing machines and flying down to meet them became more cost-effective than a truck rental I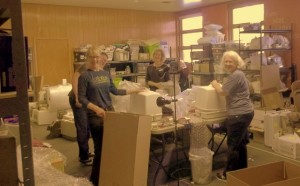 did that and again, an evolution. Of course I thought that the drivers– those handling the pallets–would love the machines as I did and treat them with appropriate care so I just wrapped some fabric around machines and shrinkwrapped them onto a pallet. Not so much. I learned quickly that there needs to be lots of padding around the machine, around each accompanying piece, around the tiny horizontal spool pin at the top. Little by little I've learned.
And the evolution continues. Most of our smaller shipments these days go via UPS. Each machine is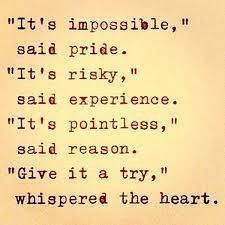 carefully wrapped and boxed separately. I take them to our local UPS dropoff where the men behind the counter and I are on a first name basis. Eric and Harry help us unload our cars, offer additional tape and give us a nonprofit discount.
But it's still really expensive. Shipping alone runs around $30 a machine and beyond the cost of the shipping itself there is the cost of supplies and the human cost of volunteers who help pack each machine and haul them down the steep steps at the church to load them in our cars. Did I mention that these ladies are pretty much all over 50 years old? We're strong but still…it's a lot of work.
This is what we do. This is who we are. And despite the sweat and time we smile and high five when those machines are finally out the door and on their way to those who need them.
I raise this whole process up to bring it into the light of your consciousness. I raise it up because we need help on a number of fronts and I believe that collectively, the answers are out there. Here's what we could use:
donated packing materials–we so appreciate all that people scrounge from their own stashes but what we also truly need is a supplier who is willing to donate boxes and bubble wrap;
a shipper who is willing to donate truck space to take machines from here to there or from there to here when a drop off site somewhere needs to get machines back to us in Madison, WI;
a team of strong, young people who can help with the schlepping of machines…we're working on this
So let this roll around in your mind. Let it sift and roil and see what appears. Share this post with people you might know who might have ideas or be willing to help. The Sewing Machine Project always has and always will be an alive, evolving entity and seriously, we simply would not "be" without everyone's belief and help and spirit. So give it some thought.
I'll be right here.