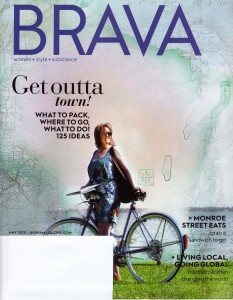 The May 2015 issue of Brava magazine is chock-a-block full of great articles. The feature piece is on "Living Local, Thinking Global" and offers brief stories about Madison women who are working on projects that reach beyond our borders. I was so thrilled to be among those interviewed and completely honored to be included with these amazing women who are doing such transformative work.
The Sewing Machine Project is proud, as an organization, to work with groups locally, nationally and internationally and our Vision remains consistent:
We passionately believe in the possibility a sewing machine embodies. We believe that everyone has the power to make the world a better place. So we share sewing machines–creating partnerships, strengthening community and nurturing the creative spirit.
It's really worth it to pick up the issue but you can also read the article about The Sewing Machine Project right here!
Brava!