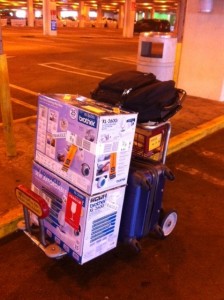 I arrived in New Orleans Wednesday to a 70 degree day–a welcome change after our Wisconsin winter. This is a busy trip! I'll be working the VDTA/SDTA trade show starting on Sunday so I thought I'd come a few days early and bring some machines, work on our projects. I sent 3 machines ahead and then realized that I could bring some on the plane so these two accompanied me down…they're headed for the Guardians' Institute.
The Guardians' Institute is being built behind the home of Supreme Queen Herreast Harrison, the widow of Big Chief Donald Harrison, Sr. The Institute will provide an educational space for the Sankofa Saturday series, teaching children the music, the arts, sewing, the culture of the Mardi Gras Indians. Not only are the children educated in these cultural elements but there is also a great emphasis on reading. Mrs. Harrison has distributed thousands of new books to children in New Orleans, meeting each child and shaking their hand as they receive this gift. The Harrison family is such a gift to the New Orleans community.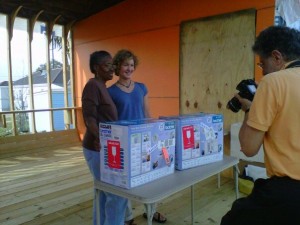 Right before I left for New Orleans I received their wish list for the new building and on the list was "new sewing machines". I'd just received these two machines not long ago…a gift from an anonymous donor. How perfectly fitting to bring them along and donate them to the Institute!
I felt honored to have my picture taken with Ms. Harrison on the site of the new building!