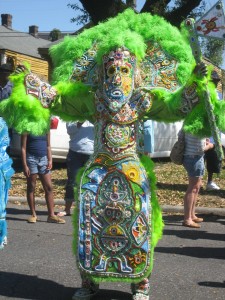 I am writing this post from the back porch of a house in New Orleans. This trip came together quickly…so many connections lingering, machines to deliver…it was suddenly clear to me about a month ago that the time to visit was now…so I made plans to spend this week in New Orleans.
It's hard to describe how these messages become so clear but it was as clear as day that this trip was necessary and when the message is so strong I know I need to pay attention. Interestingly, the trip has unfolded in such a beautiful way that I couldn't have planned it this well myself. I have met people who will no doubt impact the direction of The Sewing Machine Project. I have spent time deep within the culture of the Mardi Gras Indians, and witnessing one of their biggest events of the year–Super Sunday. I have talked with an amazing group of women in Houma running a new grassroots effort called Loss Talk which promotes conversation among community members following a significant loss…building stronger bonds and ultimately, stronger communities. The list goes on.
Last night I was talking with a theologian friend of mine and I remarked "sometimes I just need to get out of my own way"…meaning that letting go and trusting works in mysterious and incredible ways. I have done that on this trip and doors have opened, and opened and opened.
I am honored and humbled to do this work.