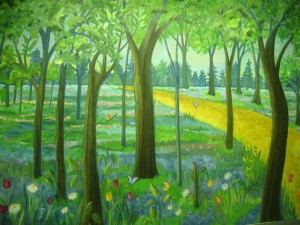 Recently, I learned of an amazing effort called Enchanted Makeovers. Their purpose is to bring hope and vision into the lives of women living in homeless and battered womens shelters. Sometimes they makeover the entire shelter, and other times they host events which raise awareness within the shelter community and throughout the nation. I was honored to attend one such event this past weekend, in Jersey City, NJ. We were working at Kenmare High School, which is a school for women who, for any number of reasons, haven't been able to finish their high school degree. Kenmare is attached to St. Joseph's Women's Shelter.
The event was amazing. 30 young women participated, and were treated to a weekend of learning and some wonderful pampering. Together we learned about the value of journaling, and learned some basic yoga poses to aid in stress reduction. On Sunday, a team of talented makeup artists, hair stylists, and manicurists came in and worked with each of the young ladies. When their makeovers were complete they were outfitted in new clothes and taken to dinner.
All services, all food, everything was donated and the event was beautiful. A team of talented artists, the Cre8tive Sisters, came in and created a mural in the High School common room. The mural depicted the yellow brick road and each of the girls was invited to add an inspirational word or phrase to the mural.
The entire weekend was magic. I took a sewing machine and sewing kit to give as a prize to one of the attendees and Agnes, the young woman who won the machine, was so completely happy.
And I am happy. I feel blessed beyond belief to have the opportunity to meet these beautiful young women. I feel honored to work as a part of this team. I feel inspired as we move forward, planning how we'll inset sewing areas into each of the shelters that Enchanted Makeovers touches. This is an inspired collaboration.