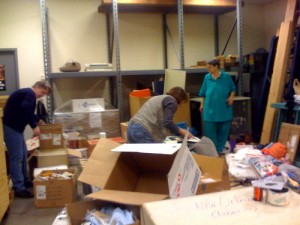 We've gone through all the fabric, we've safely packed the machines, we've loaded the pallets… The Shipment is ready to go to New Orleans and to Haiti. Thank you to everyone who made a fabric, clothing or machine donation for this first shipment!!
We have had such generous financial donations as well and those are still welcome! As it turns out, this shipment will go out of Miami rather than New Orleans and it will cost more to get it to the ship. Please visit our donation page to make your donation today.
We had to get this all packed a little sooner than originally planned because it needs to be in New Orleans by the time I arrive on Tuesday the 2nd. If you still have donations and missed this one, never fear, we'll do it again in the future. The need is so great.
Please don't drop your donation off at our collection sites…we can't know for sure when the next shipment will go and it may be awhile. The collection sites don't have the storage space.
So sit tight, watch this site, and I will write another blog post when we're ready to take more donations!
Thank you, thank you!